Self Store & More – A General Packing Guide for Self-Storage
Self-storage doesn't have to be a space you visit a couple of times a year to dig something out of a stack of boxes. It can be a highly organised, easily accessible facility that frees up necessary space in your home or office. To get the most out of your unit, it's best to plan in advance of the day you need self-storage.
This step-by-step plan should help you along the way:
WHAT WILL YOU STORE?
1. Make an inventory so you know exactly what it in the unit, especially if it is going to be a while before you visit again.
2.  Start by identifying items that will be packed in boxes and stacked.
3. Prioritise boxed items you will want to access most (they'll go closer to the front of the unit).
4. Group by fragility and/or weight – heavier, substantial items should be stored on the bottom of stacked items, delicate items on top.
5. Consider awkward-sized items that won't stack well, including how often you will need to use them, and how heavy they are.  Group these items in a similar way you did the boxes.
BE ORGANISED – PLAN YOUR PACKING
Organising and efficiently packing your items will take time and concentration. However, the up-front effort will be well worth it when you're able to easily unload and organise your items at the storage unit (or at your premises if you use our Mobile Self-Storage collection service.
Here are some tips for packing: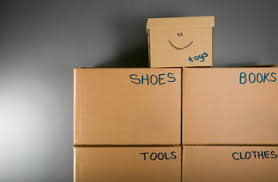 •Invest in good quality, sturdy boxes and packing materials. Boxes should be sturdy enough to hold up for years under the weight of the stack. You may be tempted to get boxes for free from supermarkets and other local stores; however, the mismatched shapes and sizes will impede your ability to organize most effectively. You can buy standard-sized boxes and specialty boxes for items such as TVs, videotapes and pictures. If you're storing long-term, you may want to invest in good quality plastic stacking boxes.
•For wrapping breakables, paper will do, but bubble wrap can be used repeatedly, is cleaner, and because it is transparent, makes identifying contents easier. Placing dustsheets, blankets or sheets over larger items whilst in storage will also protect them from gathering dust.
•Fill boxes to capacity. The contents in half-empty boxes can shift during transport or lifting. Corners and sides can collapse if there's nothing to support them. Foam peanuts, bubble wrap or paper is useful for filling in the gaps in boxes.
•Distribute the weight in packed boxes evenly. Make sure they are not too heavy to be lifted. It's better to have lots of small light boxes, rather than a few large heavy boxes if possible.
•Wrap all fragile items and breakables such as dishes, glasses, ornaments, etc. separately. Pack these items tightly into strong or reinforced boxes, filling any gaps with paper or filler. Mark "Fragile" on any boxes containing breakable items.
•Clearly label all boxes on more than one side so you can easily identify the contents.
•Pack books flat to avoid damaging their spines.
•If you plan to store clothes, it's worth investing in a wardrobe box with a built-in hanging rod.
•Wrap mirrors and pictures in protective covering such as bubble wrap, blankets or sheets and mark them as "Fragile." Cardboard corners can be purchased to protect the sharpest, weakest areas of frames.
•If you're storing upholstered products such as mattresses and sofas, consider investing in covers, bags or sheeting for additional protection.
•Vacuum-sealed bags work really well for bedding and clothing.
•Electrical equipment such as TVs, stereos, and computers should be packed in their original boxes whenever possible. If using other boxes, choose ones that are as close in size to the original as possible, and fill all gaps with paper.
•Where possible, disassemble furniture such as beds and tables before you store them. Wrap and cover the separate sections, clearly mark them and keep them together. Keep assembly components such as screws and bolts together in a plastic bag, mark them clearly, and tape the bag to the appropriate piece of furniture. (Use tape that is safe for use on furniture, or tape the bag to an inconspicuous place on the piece.) Cover chair legs with bubble wrap or rags for extra protection.
•Spray your wood furniture with a good quality furniture polish before storing it to give it some added protection.
•Wipe down metal objects and tools with a little oil before storing them to avoid rust formation that can occur when the tools are not used regularly.
We hope this has been helpful but if you need any further advice, or wish to discuss how Self Store & More can help with your upcoming storage needs, then please call us on 01600 735001 / 01594 840860 or send us a message via our contact page by clicking here.
Happy Packing 🙂