Tips for DIY Beginners.
Tips for DIY Beginners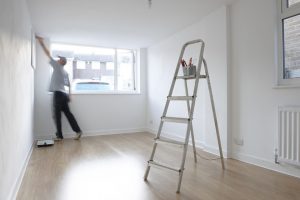 Now the days are longer and the weather is warmer many of us will start to think about improving our home ready for the summer. For some, this can be an exciting time but, for others, the thought of DIY can seem daunting. If completed correctly, it is a great way of improving your home whilst saving money on professionals so here are some tips before starting.
Know what you're getting into – Before starting your DIY project, brush up on the work needed and educate yourself by reading a DIY how-to site on-line, watching a demonstration video or even asking a friend who has relevant experience. Having motivation is essential to see the project through, but you really need to know how to do the job first.
Budgeting for your project – keep some budget aside for unforeseen costs – even a professional will have a contingency for each project. Having to stop your project before it's finished due to lack of funds can be avoided if you budget correctly and keep a list of all the materials and their costs as you go along.
Know what you CANNOT do – Some things, such as working with gas and most new electrical work, are covered by regulations which prohibit the ordinary DIY'er from carrying out the work even in their own home The regulations are there for safety sake so don't try to do these jobs, not only is it against the law but you can endanger yourself and your family.
Stay safe at all times – Make sure to always read safety instructions on all products and tools, and use protective clothing when necessary. Protective clothing such as goggles and gloves won't cost you much and will be of use for years to come.
Start small – To avoid disappointment, possible damage and possible expense of getting a professional to finish it off, make your first DIY project a simple job and get bolder as you gain experience. Although knocking down a wall may look simple enough, more experience DIY veterans and professionals will know to look for possible complications such as what the wall supports, water pipes, electricity cables and other issues.
Always test – For many DIY projects, particularly for complicated ones always test your skills and materials on a small scale first. This will allow you to try out your tools, ensure you have all the necessary materials and avoid causing any damage. For example, if you decided to re-coat your hardwood floor after several years of use, testing your method first on a small surface area is what most retailers recommend.
Allow enough time and don't rush the job – When starting your DIY project, the chances are you will discover that whatever it is, it takes longer than you thought. Because there's nothing worse than ending up with half a job done, make sure you allow enough time to complete the work and allow some extra time for complications. Some projects seem to require one weekend, but in reality one weekend could eventually spread across a few.
Protect your prized possessions – this is where a local self storage company can help. There is nothing worse than trying to carry out DIY whilst constantly bumping into the furniture that has been left stacked up in the middle of the room. There are not many homes that can accommodate two rooms in one and still be habitable so, by clearing out the bulky furniture you will ultimately save lots of undue stress and effort. At Self Store & More, we have small, medium and large storage solutions to suit your needs so why not contact us to find out how we can help you.
Finally and most importantly  – Enjoy your project so you look forward to the next one.